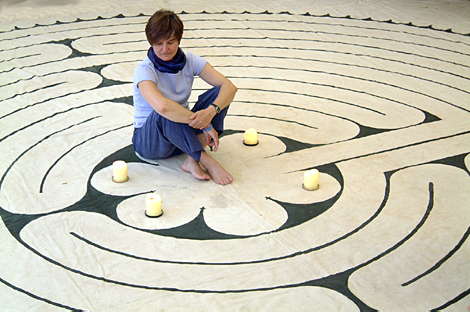 There was a nice article on a labyrinth at Millbrook Baptist Church in Raleigh, and how intrinsic it has become to the community of faith, and others who are interested in this peculiar spiritual practice.
From the News and Observer and Yonat Shimron:
A journey made easier
In ancient times, the labyrinth was used as a substitute for a pilgrimage to Jerusalem.
When political upheavals made travel to the Middle East dangerous, the Roman Catholic Church created seven "pilgrimage" cathedrals where people used the labyrinth to make spiritual instead of physical journeys. France's Chartres Cathedral, 50 miles southwest of Paris, is the only one where a labyrinth remains.
Millbrook Baptist's labyrinth is modeled on the Chartres pattern, which was built in 1174.
Judy Homer, a Raleigh spiritual director who has been leading workshops on labyrinths for 15 years, said she hopes Millbrook's example will serve as a prototype for other churches.
"If enough people are working toward peace, it raises the vibration level," she said.
To her, the labyrinth is a path of illumination that can transform and change people's brain chemistry. Unlike a maze, a labyrinth has no tricks or dead ends. A single path winds from the outside of the circle to its center, shaped like a flower.
The path has three parts: walking into the center, resting in the heart of the labyrinth, and walking out.
"It's the soul's need to draw within, to circle into center," Homer said.
The beauty of the labyrinth is that there are no formulas or rituals to learn. People walk at their own pace and meditate on their own thoughts.
That's one reason Jones thinks it might be a tool for peacemaking. People of faith as well as people without faith can participate.
"There's something about the space that offers people a sanctuary for solitary meditation," Jones said. "It builds on itself and seems to have a contagious effect."

Click here for more.
My hope? That people will walk from labyrinth to pilgrimage. My other hope? To be able to convince people of this move!
Pace!
Buen Camino!
B